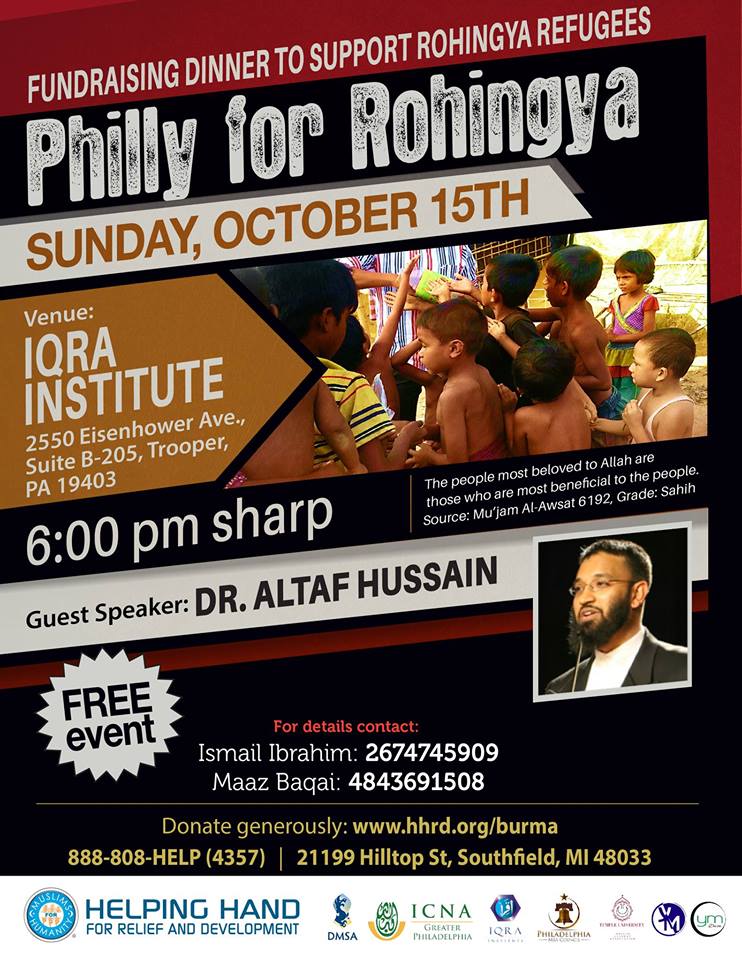 Event details
October 15, 2017
6:00 pm - 9:00 pm
2550 Eisenhower Ave, Suite B205
4843691508
Fundraising Dinner to Support Rohingya Refugees
Join us for a FREE event to support the refugees of Rohngya. Dinner will be served.
HHRD Emergency Response Team (ERT) members are on the scene assessing and assisting Rohingya Muslim Refugees who have escaped from Burma into Cox Bazar Bangladesh, one of the main locations for make shift shelters. Torrential rains have flooded this area making living conditions very difficult.
With an estimated 700,000 refugees already in the area and 400,000 waiting on the border to cross in, the situation is extremely dire.
Guest Speaker:
Dr. Altaf Hussain
Contact:
Ismail Ibrahim: 267 474 5909
Maaz Baqai: 484 369 1508
Co-hosts:
ICNA Greater Philadelphia
IQRA Institute
YM Brothers
YM Sisters
Drexel MSA
Temple MSA
Philly MSA Council