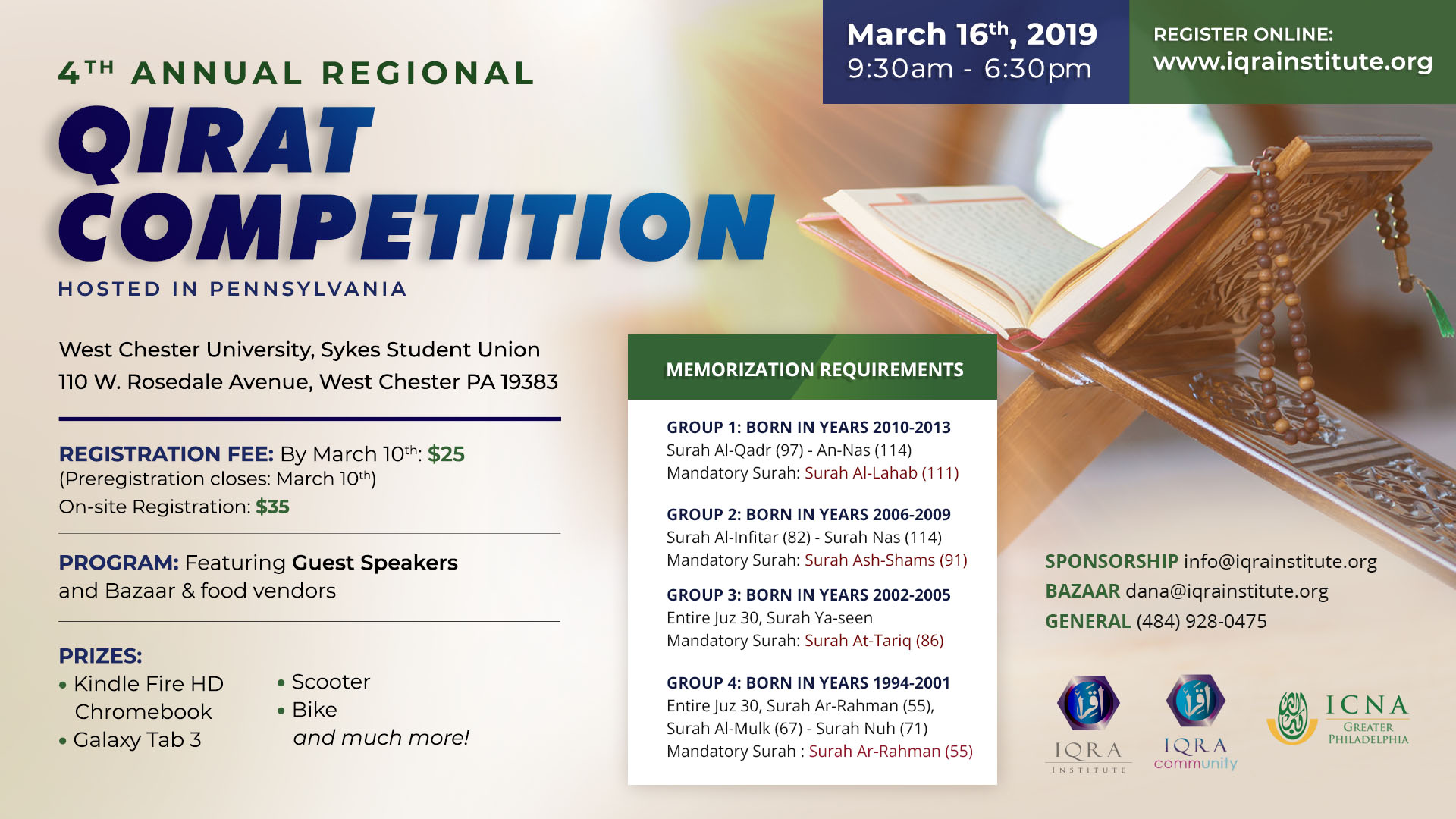 Event details
March 16, 2019
9:30 am - 6:30 pm
West Chester University, Sykes Student Union, 110 W. RoseDale Avenue, West Chester, PA 19383
4849280475
Iqra Institute/Community present their 4th Annual Qirat Competition hosted in Pennsylvania. Join us for a family day full of activities, competition, parent programs with guest scholars, an amazing bazaar AND MUCH MORE!!!
If you're between the ages of 6-25 register and participate in the competition to win amazing prizes. Prizes include:
-Chromebook
-IPad Mini
-Galaxy Tab 3
-Kindle Fire
-AND MUCH MORE….
Program Featuring Talks from various scholars from the United States
For Competition rules and format Click here:
REGISTRATION:
Registration Fee:
$25 (by March 10th)
On-Site Registration Fee: $35
*Pre-registration closes on March 10th, 2019*
CURRICULUM
Group 1: Born in year 2010-2013
Surah Al-Qadr #97 to Surah An-Nas #114 Mandatory Surah: Surah Al-Lahab #111
Group 2: Born in year 2006-2009
Surah Al-Infitar #82 to Surah An-Nas #114 Mandatory Surah: Surah Ash-Shams #91
Group 3: Born in year 2002-2005
Entire Juz 30 and Surah Ya-Sin #36 Mandatory Surah: Surah At-Tariq #86
Group 4: Born in year 1994-2001
Entire Juz 30,Surah Ar-Rahman #55,Surah Al-Mulk #67 – Surah Nuh #71 Mandatory Surah: Surah Ar-Rehman #55
BAZAAR VENDORS:
Will be updated!
If you are interested in having a booth in our bazaar contact us at dana@iqrainstitute.org
If you would like to be a sponsor, contact us at info@iqrainstitute.org
Thank you to our sponsors!