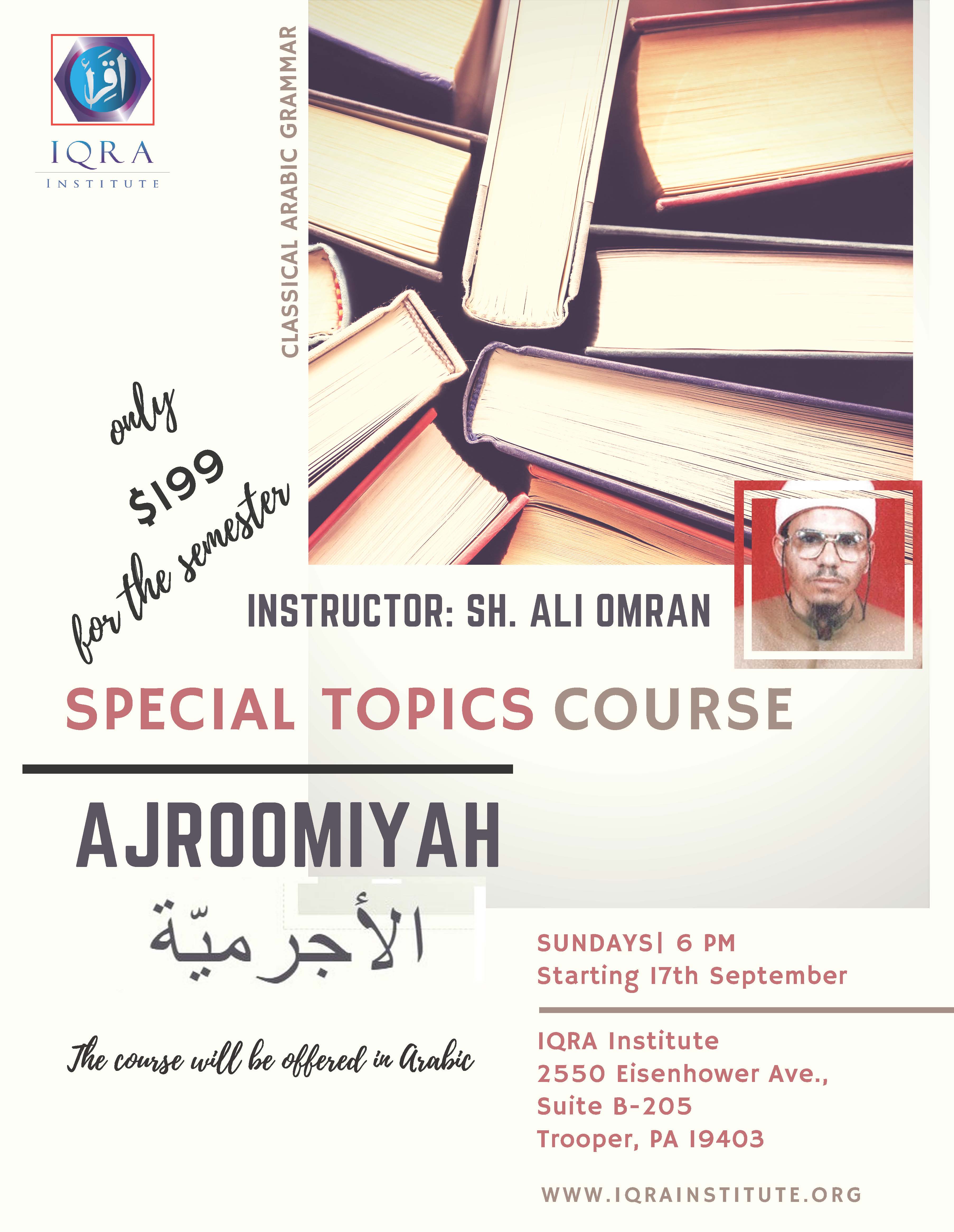 Event details
December 10, 2017
6:00 pm - 7:00 pm
2550 Eisenhower Ave, Suite B205
4849280475
This course will go over one of the most fundamental grammar texts in the Arabic Language; Ajroomiyah.  The text is a very concise text by ibn Ajrom but will establish the foundation for any one interested in partaking the journey of understanding Arabic Grammar.  The course will be taught using the shar and commentary by Maqbool Bin Hadi.  This course will be in Arabic only.  Basic listening and reading comprehension of the language is a must.  This is a 12 week course.
Course Policy
Students are responsible for ensuring that they are on the class email list Assignment submissions should be in hard copy form or by finishing them online as applicable. Email submissions cannot be accepted.
Assignments (Grading)
Attendance (20%)
Homework and Quizzes (20%)
Homework problems will be assigned at the end of each class.  Answers will be discussed and checked in class the following week by peers. Reviewed assignments will be collected and credit given.
Midterm Presentation (30%)
A presentation will be given by each student on the topics covered in the first half of the semester.
Final Exam (30%)
The final exam will be cumulative. Both homework and readings will be covered.
Ajroomiyah – IQRA Fall 2017
Taught by Instructor Sh. Omar Ali, 215-512-8353
Office Hours: Sunday  8:30-9 pm, and by appointment 
Required Text: Al Mumti' By Maqbool Bin Hadi,
Schedule (to be revised as appropriate)
Date
Topic
Reading
September 17
مقدمة الشيخ الإمام مقبل بن هادي مقدمة الشرح
3-7
September 24
منهج الشرح

إرشادات في طريقة الشرح
التعريف بإبن آجروم

8-11
October 1
تعريف الكلام–تمارين
أجزاء الكلام — تمرين
12-16
October 8
علامات الاسم
علامات الفعل علامات الحرف
17-22
October 15
MIDTERM
October 22
باب الإعراب و البناء
أنواع الإعراب
23-28
October 29
تقسيم الاسم إلى مفرد مثنى و جمع
باب معرفة علامات الإعراب
29-36
November 5
المعربات بالحروف و شروط إعراب الأسماء الخمسة
37-43
November 12
المعربات بالحروفالمعربات
44-50
November 19
باب الفعال

الإعراب

51-58
November 26
NO CLASS
December 3
نواصب المضارع
69-76
December 10
Final Exam