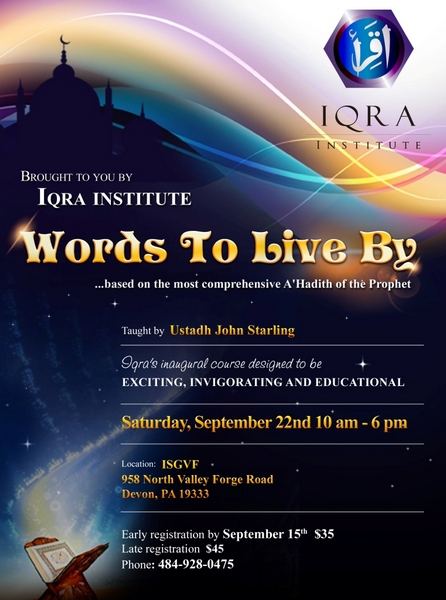 Event details
Tuesday | December 31, 1969
All Day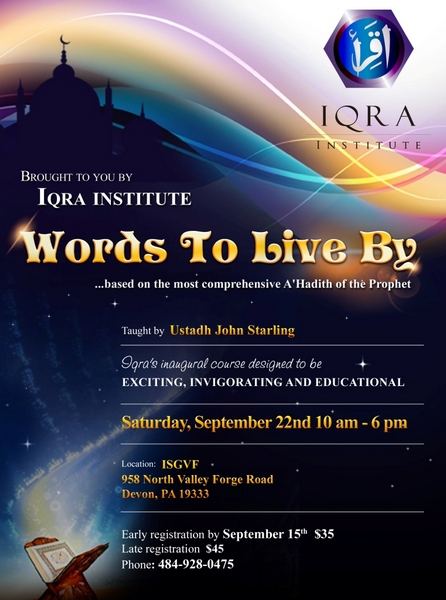 Course Name: Words To Live By
Course summary text:A highlight and discussion based on the most comprehensive A'Hadith based of the Prophet.
Course Date: Satuday, September 22nd , 10 AM – 6 PM
Course Free preview: September 21, 7:00 PM – 8:00 PM
Course Location: ISGVF
958 North Valley Forge Road,
Devon, PA 19333
Course Price: Early registration by September 22nd – $35, On site Registration – $45, College student: $20, Middle/High school student: $15
In order to register for course you must be ages 12+ only.
Babysitting services are available on site (any age).
Financial aid is available if needed, please contact info@iqrainstitute.org for more information.
Note: For Cash and Check payment methods
For those who wish to pay cash, you may either register online through our site, and bring your cash payment to the course (Cash or Check), or you may download the below form and bring it to the course along with payment.
For Credit Card Payment: Please register an account with us, and pay with your credit card or paypal account.
Don't have time to go through endless volumes of literature?
Stop Searching and Start Learning with Imam Starling.
"Verily Allah has prescribed proficiency in all things." -Muslim
Finally, a local seminar that gives you unparalleled knowledge. Learn Al-Nawawi's 40 Hadith which helps guide Muslims throughout their daily lives.
Master the skills to live on the right path.  This one-day intensive class is jam packed with valuable and highly proclaimed information.
Course Summary:
Following the Sunnah is based on hadiths collected by Imam Abu Zakariyyah Yahya An-Nawawi (676 H), the late great medieval Muslim scholar, from one of the most renowned collections of hadith the Muslim world has ever known.
This collection, which highlights the fundamental essentials of Islam including creed, jurisprudence, ethics, and manners, has been studied, explained, and referenced by the overwhelming majority of Muslim scholars for the past 7 centuries.
This course will serve as a detailed analysis of the most comprehensive hadith of this collection, offering the student greater insight into the fundamental Islamic principles it contains. Throughout the course students will enjoy an interactive approach to studying hadith and a first-hand experience of their relevance in our daily lives.