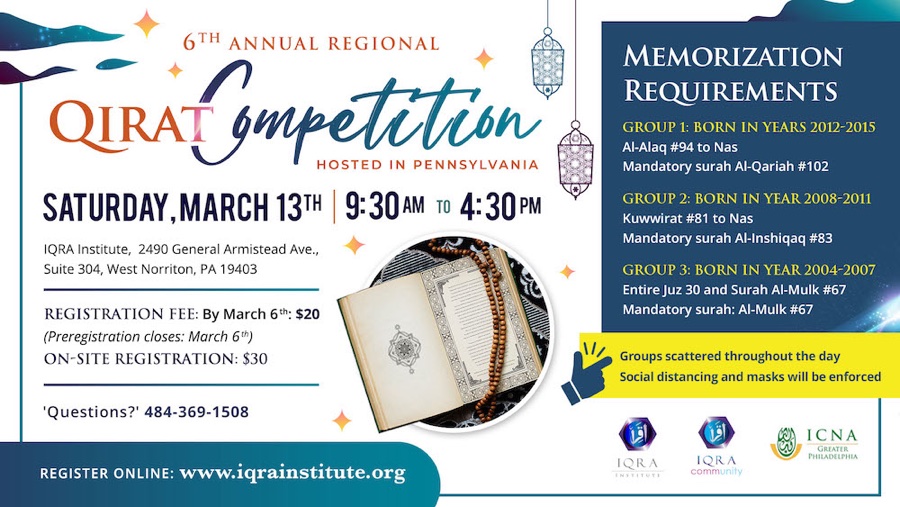 Event details
March 13, 2021
9:30 am - 4:30 pm
IQRA Institute, 2490 General Armistead Ave, Suite 304, West Norriton, PA 19403
484-369-1508
Iqra Institute/Community present their 6th Annual Qirat Competition hosted in Pennsylvania.
**Please note, this year there will be a number of changes and adjustments made due to the COVID-19 pandemic.  This year, only competitions will be taking place with no bazaar, program, or lunch inside.  We will be staggering all the groups out throughout the day to allow safe use of the facility and social distancing inside the facility.  Additionally, the preliminary rounds and final rounds will be done in immediate sequence per group.  Masks and social distancing will be required.  If you are participating from out of state, we will be following the PA state guidelines of any person arriving from out of state. (i.e. if negative covid test required, etc).  More information on that would be released close to the competition date.
Once registered, you will be assigned a time slot to arrive and participate.
If you're between the ages of 6-17, register and participate in the competition to win amazing prizes. Prizes include:
-Chromebook
-IPad Mini
-Galaxy Tab 3
-Kindle Fire
-AND MUCH MORE….
For Competition rules and format Click here:
REGISTRATION:
Registration Fee:
$20 (by March 6st)
On-Site Registration Fee: $30
*Pre-registration closes on March 6th, 2020*
CURRICULUM
Group 1: Born in year 2012-2015
Surah Al-Alaq #94 to Surah An-Nas #114
Mandatory Surah: Surah Al-Qariah #102
Group 2: Born in year 2008-2011
Surah Kuwwirat #81 to Surah An-Nas #114
Mandatory Surah: Surah Al-Inshiqaq #83
Group 3: Born in year 2004-2007
Entire Juz 30 and Surah Al-Mulk #67
Mandatory Surah: Surah Al-Mulk #67
For further questions, please call 484-369-1508 or email info@iqrainstitute.org