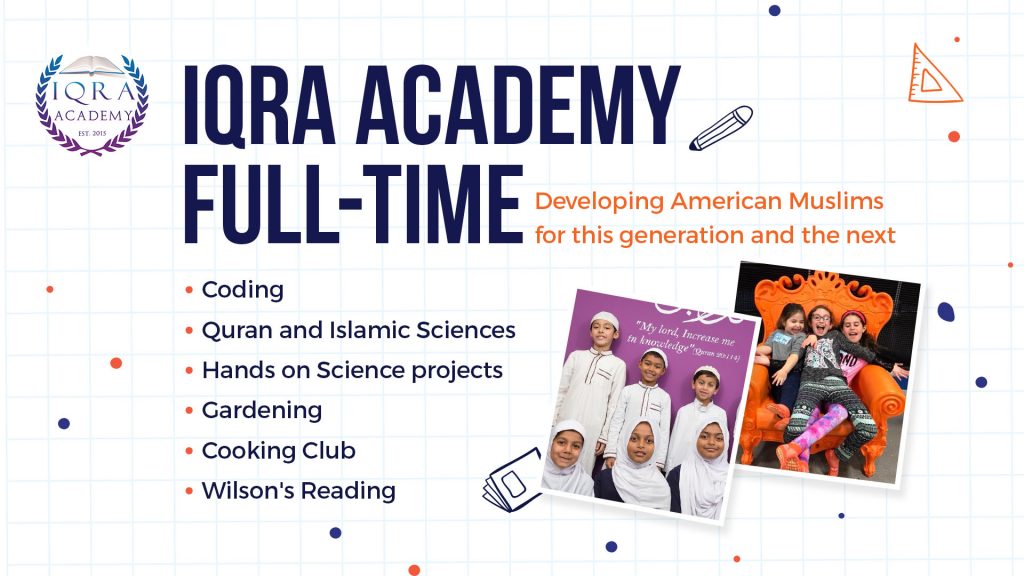 Event details
May 12, 2023
8:30 am - 3:00 pm
1079 Egypt Rd, Phoenixville PA 19460
484-928-0475
Daily class schedule is M-F 8:30 AM – 3:00 PM
IQRA Academy full-time seeks to be the premier Islamic School in our region that inspires young Muslims to reach their potential.
IQRA Academy, an Islamic School for pre-kindergarten through grade 8, provides an Islamic learning environment for both secular and Islamic education.  We seek to inspire our students to be leaders, thinkers, entrepreneurs, and scholars of the next generation.
Our Values
Academic Excellence
IQRA Academy seeks to develop and implement, through in house and partner organizations strong academics in both secular and Islamic sciences.  Our students have access to state certified teachers, honors track  programs, and special needs programs.
Building Strong Muslim Identity
As American Muslims in a non Muslim society, we strive to embed a strong Muslim identity in our students.  Through Islamic education, celebration of Islamic holidays and traditions, and social activities, we seek to enable our students to be proud of their faith.
Muslims of Character
Through tarbiyah in the classroom, we seek to give our students the adab and moral values of a Muslim.  Our teaching staff works diligently to instill respect, compassion, responsibility to exemplify Muslim tradition.
Check our our Admissions page to learn more on how to apply to IQRA Academy Full-time.