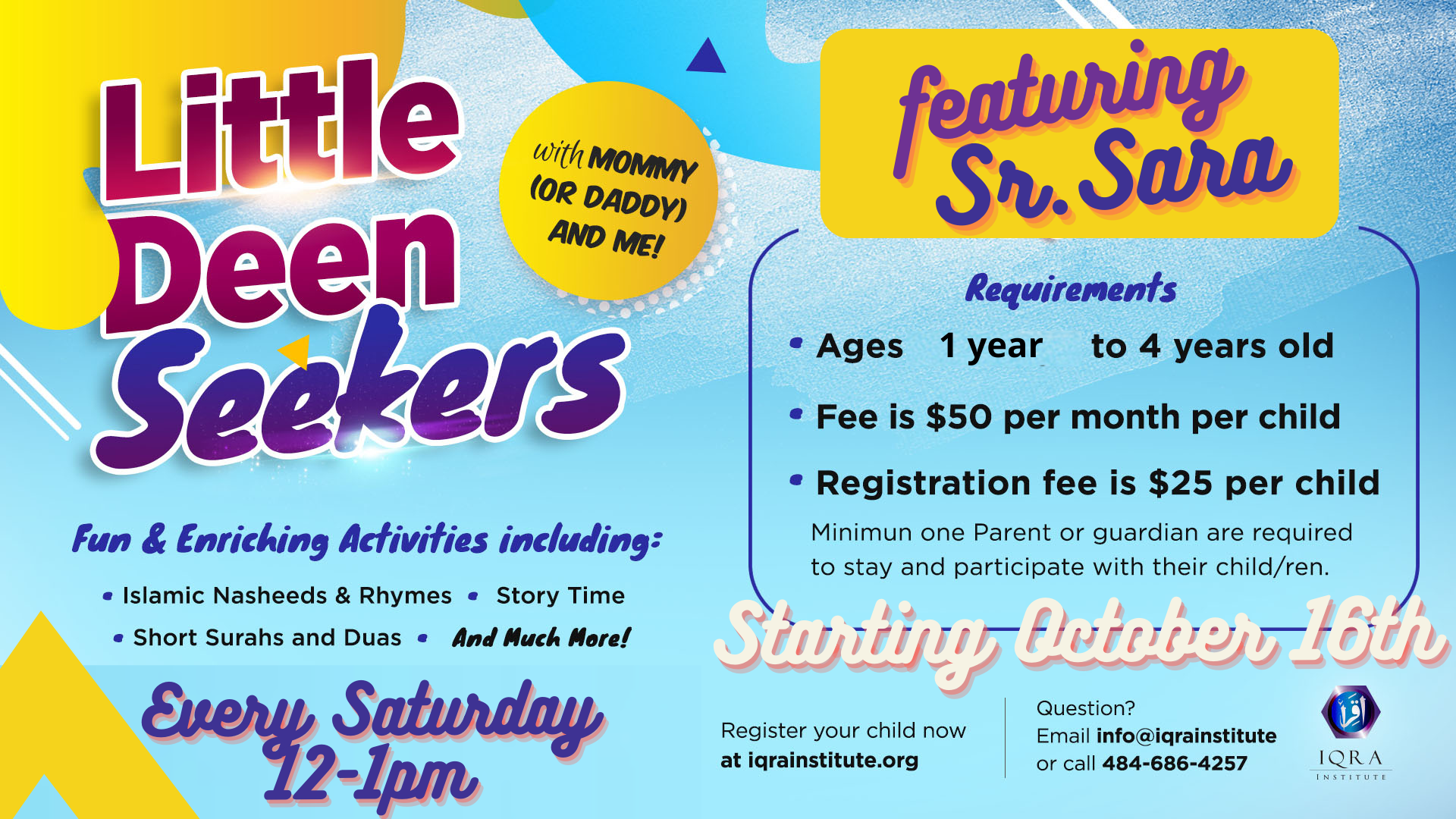 Event details
Saturday | October 16, 2021
12:00 pm - 1:00 pm
2490 General Armistead Ave., Suite 304, West Norriton, PA 19403
(484) 393-1758
It's Back!
Children 0-4 years of age learn through play, their senses, and from their environment.  It was narrated from Abu Hurayrah (may Allah be pleased with him) that the Messenger of Allah (peace and blessings of Allah be upon him) said: "Every child is born in a state of fitrah (the natural state of man, i.e., Islam), then his parents make him into a Jew or a Christian or a Magian." (Agreed upon).
From the above hadith we learn:
1. Children are born in a pure belief in monotheism.
2. Parent is the First Teacher; Your example teaches more than your words
IQRA Institute, in collaboration with various community members and educators, have developed a fun and educational program for children ages 0-4 years. The class will consist of activities designed around:
– Play
– Repetition
– Nasheeds
– Nursery Rhymes with an Islamic Twist
– Focused engagement time with their mother (or father)
– Social interaction between mothers (or fathers)
Location: IQRA Institute
Fee: $50/month per child
Timing: Saturdays, 12:00 PM – 1:00 PM
Ages:  1 year – 4 years, at least 1 parent or guardian required to attend session with child
Curriculum Summary
Aqeedah
Taqawah (Love of Allah, Love of the Prophet)
Arabic (Letters of the Day, Numbers of the Day , Colors of the Day)
Nouns in the Quran (Animals, Food, People, Miscellaneous )
Adaab/Akhlaq (Ihsan, Manners, Eating and drinking with the right hand)
Reading Time (various Islamic Book Series)
Seerah (Prophets, Read stories of Prophets and Companions, Read short ahadith that are like stories,
Read stories from the Qur'an)
Qurah Memorization (Surah Al Fatiha, Surah Al Iklas)
Small Duas and Dhikr
Arts & Craft
Islamic holidays
Nasheeds
The following are A'hadith that will help us better educate our children according to their way of absorbing knowledge. We can find the Islamic philosophy of teaching is also ingrained into the philosophy of Play and Learn and Montessori philosophies, which we can use to teach our young students.
 "Play with your children for seven years, teach them for seven years, observe them for seven years and befriend them for seven years."
The first stage of a child's life they learn through playing and exploring