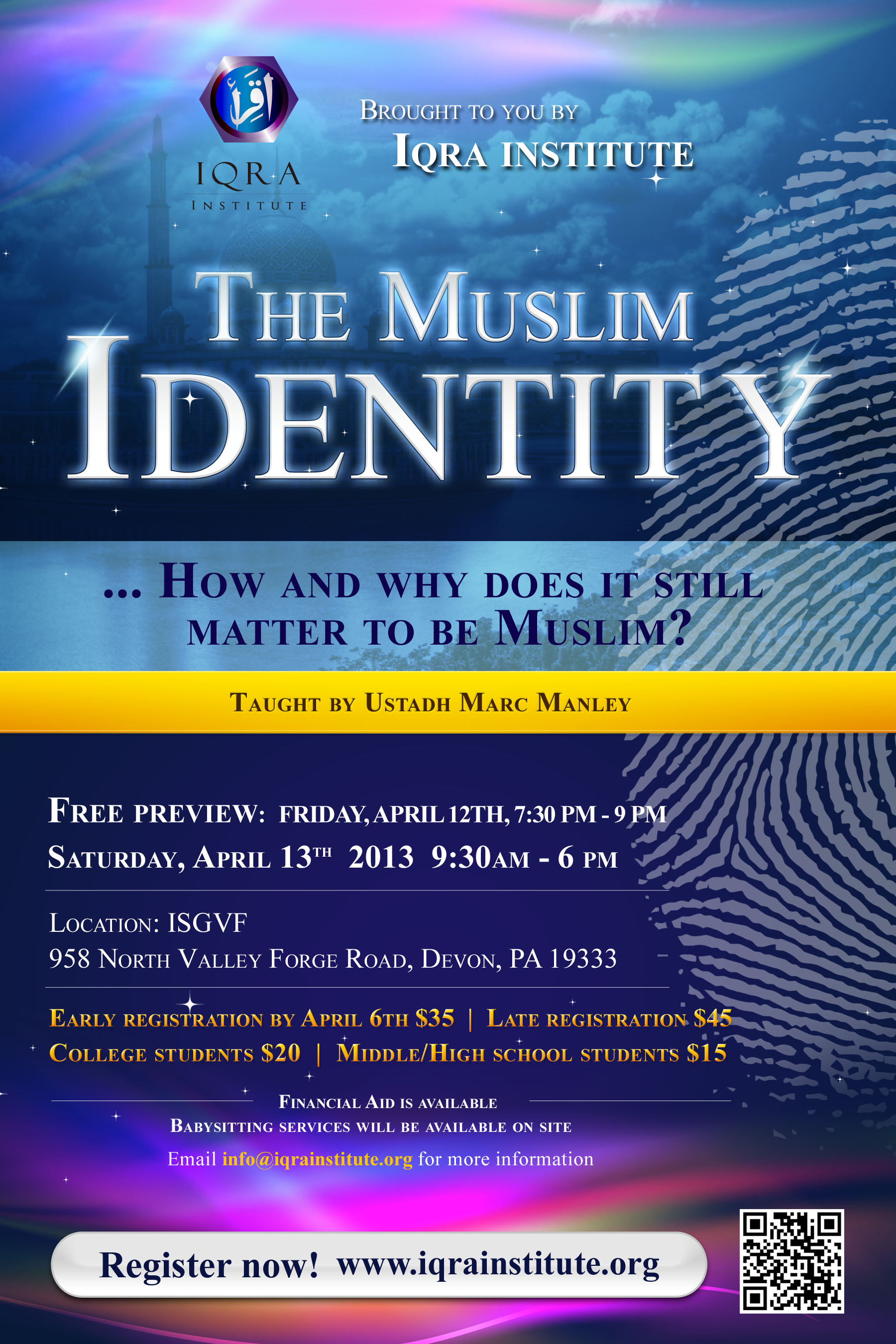 Event details
Tuesday | December 31, 1969
All Day
Course Name: The Muslim Identity
Course summary:  Identity. Religion. Youth. Relevance: The Who, What, Where, and Why of Being Muslim Today.
Course Dates:
FREE Preview Friday April 12th, 7:30 PM – 9 PM
Saturday, April  13th 2013, 9:30 AM – 6 PM
Course Location: ISGVF
958 North Valley Forge Road,
Devon, PA 19333
Course Price: Early registration by April 6th – $35, On site Registration – $45, College student: $20, Middle/High school student: $15
In order to register for course you must be ages 12+ only.
Babysitting services are available on site (any age).
Financial aid is available, please contact info@iqrainstitute.org for more information.
Note: For Cash and Check payment methods
For those who wish to pay cash, you may either register online through our site, and bring your cash payment to the course (Cash or Check), or you may download the form below and bring it to the course along with payment.
For Credit Card Payment: Please register an account with us, and pay with your credit card or paypal account.
Course Summary:
This workshop will explore not only important thematics of what a Muslim "ought to be," but will also investigate who we've gotten here in the first place by looking at our histories, investigating the Quran, the Sunnah, and the Early Revelatory Period as well as delving into modern social sciences to help illuminate the way. This is a work shop for the 8-80, for the young Muslim boy or girl, the teenager, the parent, the college student and the 30-somethings. Religious identity and adhesion do not exist in the natural world; they are created. Let's work together to create the next generation of inspiring, God-fearing Muslims today.
Taught by: Ustadh Marc Manley
Marc Manley was born in Detroit, Michigan and embraced Islam in 1992.  He subsequently learned and then taught the Arabic language for a few years.  Marc has a passion for writing and educating. His writing has been recognized through a number of venues, from the Philadelphia Inquirer as well as Best Design, in the 5th Annual Brass Crescent Awards.  Marc has taught Islamic studies Crescent Academy in Canton, Michigan, and has previously held roles such as being the Drexel University and University of Pennsylvania Chaplain.  Marc completed his ijazah at Quba Institute in the area of Khutbah.  Marc currently delivers sermons at Drexel and the Philadelphia area, and maintains his popular blog www.marcmanley.com