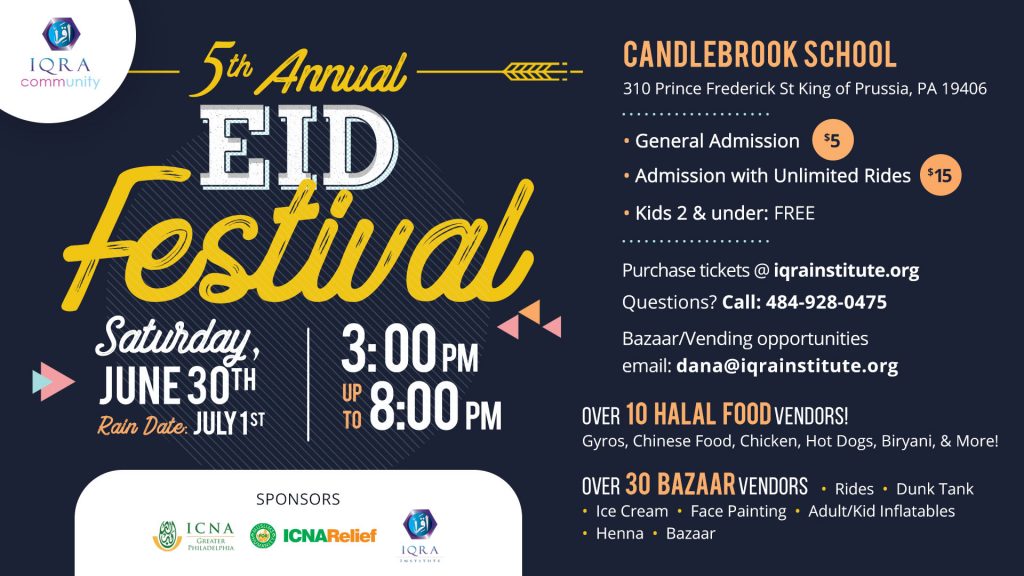 Event details
June 30, 2018
3:00 pm - 8:00 pm
Candlebrook School, 310 Prince Frederick St. King of Prussia, PA 19406
484-928-0475
5th Annual Eid Festival!
IQRA Community is proud to bring dozens of organizations from the Greater Philadelphia area for a festive, fun, and exciting Festival!
Halal Food vendors, games, prizes, rides, bazaar, and more!  A full schedule and list of activities will be available at the day of the Eid Festival!
We thank our sponsors for helping make this festival happen!
Sponsors:
1.) IQRA Institute
2.) ICNA Greater Philadelphia
3.) ICNA Relief
Rain Date: Sunday, July 1st
Ticket Price: General Admission $5
Admission with UNLIMITED rides: $15 (Children and Youth rides available only)
Children under 2 FREE.
Interested in being in the bazaar, please click the below links. Email dana@iqrainstitute.org for questions.
Click Here for Bazaar vendor registration (packages starting at $100)
Click Here for Food vendor registration ($150 vending fee)