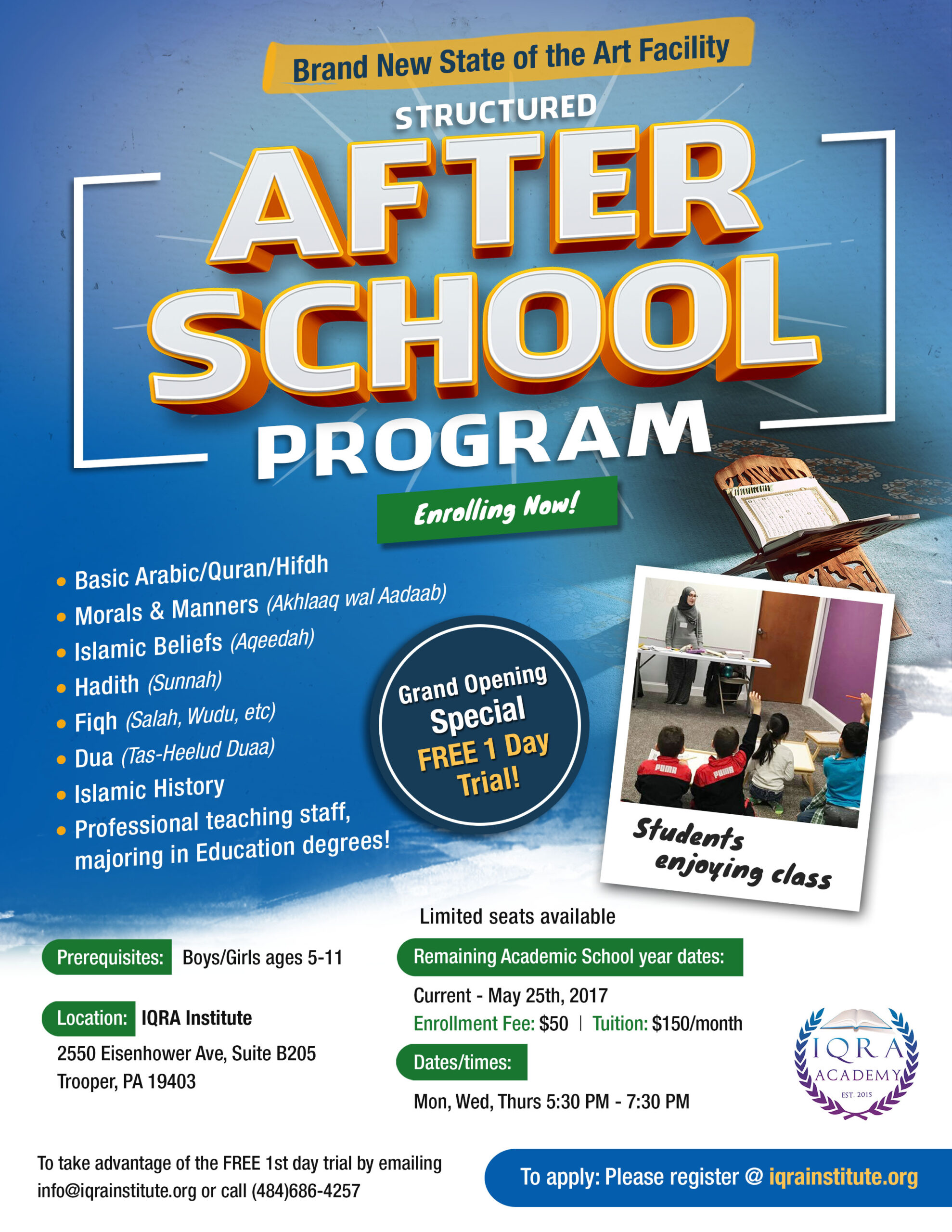 Event details
Sunday | December 10, 2023
All Day
According to Al-Ghazali, "knowledge exists potentially in the human soul like the seed in the soil; by learning the potential becomes actual."  After-school Quran & Islamic studies programs have been a vital part of Muslim education throughout history.
Program Objective: To preserve and protect the faith of our children and give them the opportunity to learn the essentials of Quran recitation, memorize, and Islamic education, thus training them to be our next generation of leaders of our Ummah.
Admission Requirements:
Boys/Girls ages 5-11 (Children age 4 will be consideration if seats available and child passes evaluation)
Program Objectives:
Provide a fun, interactive Islamic learning environment, enabling the child to flourish based on his/her capabilities and personality.
Develop proper character (Tarbiyah) for the child.
Enable the student to recite and memorize the Quran, utilizing traditional methods paired with modern technology.
Help build the child's Muslim identity.
Fun, structured, and accountability based approach ensures child progresses and retains information.
Program Details
Basic Arabic/Quran/Hifdh

Reading and Surah memorization
Tajweed rules will be taught.
Dua memorization

Islamic Studies

Course books provided by Safar Publications, a new, fun, fully illustrated book series which covers the below:
Akhlaaq wal Aadaab (Morals and Manners)
Aqeedah (Islamic Beliefs)
Ahadeeth – Hadith Words and Deeds of the Prophet Muhammad's (pbuh) Sunnah
Fiqh (Salah, Wudu, Cleanliness etc) (Shafi'i)
Islamic History
Dedicated Arts & Crafts for younger students, playtime and breaks for all students
Activities: Monthly guest speakers talking about special topics, monthly fun night, quarterly field trips, guest speakers talking about special topics, qirat competition
By completing this program in its entirety, the student shall have a strong grasp on reading the Quran, have memorized the 30th Juz' plus selected Surah's in the Quraan set by the Hifdh curriculum, memorized Dua, as well as Islamic fundamental knowledge, including salat, Islamic history, Islamic etiquette, and basic Fiqh.
Tuition: $150/month.  10% Discount given for each additional sibling(s).
Non-refundable enrollment fee: $50
Course Book fee: $50
Financial Aid is available.
After School Program dates: Present – May 25th, 2017: M, W, Th – 5:30 PM – 7:30 PM.
Islamic Studies Teacher: Sr. Iman Salam
Arabic & Quran Teacher: Sr. Hind Ibrahim
Location: IQRA Institute
2550 Eisenhower Ave, Suite B205
Trooper, PA 19403
About Sr Iman Salam:
Sr. Iman Salam is a Bachelors of Art candidate in Speech-Language-Hearing at Temple University.  She has numerous experiences in teaching, ranging from private tutoring, to assisting college professors and running her formal class at New Horizon Sunday School.  Iman has a strong background in childhood development and psychology. She strives to keep the students engaged in the classroom by implementing fun teaching methods.
About Sr Hind Ibrahim:
Sr. Hind currently teaches at VAHS full time as an Arabic and Quran teacher to their Primary and Foundation level students. She also has worked with New Horizons Islamic weekend school in Wayne for 5 years.  She received a Bachelor's of Commerce degree from Alexandria University. She has taught for 3 years in Egypt and 2 years in Wayne, Pennsylvania as a Sunday School teacher. We welcome her this year to the IQRA Academy team.