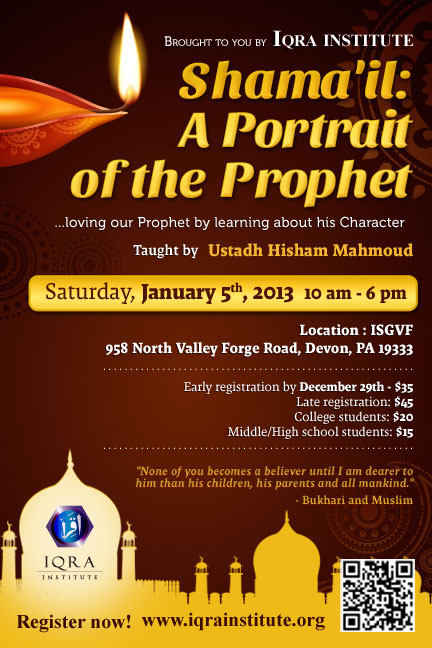 Event details
Wednesday | February 1, 2023
All Day
Course Name: Shama'il: A Portrait of the Prophet
Course summary: Iqra is proud to offer a course discussing the Prophet's Shama'il (Character).  The Prophet was not only a Prophet and Messenger, but was a husband, father, friend, leader, teacher, and a mercy to mankind.
Course Date: Satuday, January 5th 2013, 10 AM – 6 PM
Course Location: ISGVF
958 North Valley Forge Road,
Devon, PA 19333
Course Price: Early registration by December 29th – $35, On site Registration – $45, College student: $20, Middle/High school student: $15
In order to register for course you must be ages 12+ only.
Babysitting services are available on site (any age).
Financial aid is available if needed, please contact info@iqrainstitute.org for more information.
Note: For Cash and Check payment methods
For those who wish to pay cash, you may either register online through our site, and bring your cash payment to the course (Cash or Check), or you may download the below form and bring it to the course along with payment.
For Credit Card Payment: Please register an account with us, and pay with your credit card or paypal account.
Course Summary:
Go back in time to the cave of Hira before Angel Jibreel began the revelation. Live during the time and place of many Quranic revelations, and the foundation of Islam, all based exclusively on Quran and Hadiths. Come together and immerse yourself as we journey through the Messenger's time:
Understand the life of the Prophet Muhammad(PBUH)
Witness the struggles and victories of establishing Prophethood
Know the Prophet: a husband, father, friend, teacher, and leader
Learn by example on how to live every aspect of your life.